Joseph Groves
Tenor vocals/sound tech
Write a short description about yourself of interest and pertaining to what brought you to this ministry.
First off I would just like to say that I love music, and I love singing for the Lord even more. I've been singing on stage since I was 5. My father found out I could sing and the rest is history. The Lord has put a calling on my life to spread the gospel of Jesus through song to win souls for him. He has been so good to me and my family that I feel like shouting it from the rooftops! I've always had an interest in vocal harmony. At the very young age of 8 I learned how to sing tenor by listening to great gospel groups like the Cathedrals, Kingsmen, and the Singing Americans. I find it a great joy, and an honor to sing the great southern gospel songs I sing today.

Daughter, Emma Groves
About Me
Full Name:
Joe Michael Groves
Nick Name:
Joe, Joey, Pork Chop
Position:
Tenor vocals/sound tech/treasurer, NDMM, Inc.
Date Joined:
June 7, 2009
D.O.B.
February 11, 1985
Spouse:
Nicole Carroll Groves
Children:
Emma Groves
Parents:
Wayne Groves, Louise Groves, Donna Taylor
Grandparents:
Nathan Groves, Betty Groves, Genie Lewis
Siblings:
Jason Alan Groves, Sandra Elizabeth Groves
Birthplace:
Port Jervis, NY
Hometown:
Kissimmee, FL
Occupation:
N/A
Future Plans:
To grow in the lord and win more souls for Christ. Possibly go full-time
Favorites
Bible Verse:
Luke 17:6 And the Lord said, If ye had faith as a grain of mustard seed, ye might say unto this sycamine tree, Be thou plucked up by the root, and be thou planted in the sea; and it should obey you.
Song:
Little is Much done by Terry Franklin in the Gaither Vocal Band
Singer:
Ernie Haas
Trio:
Booth Brothers
Quartet:
Cathedrals
Musician:
Mary Trissel
Food:
Chicken
Soda:
diet wild cherry Pepsi but sweet tea is my favorite drink
Color:
electric blue
Candy:
Kit kat
Restaurant:
Golden Corral, I call it the trough
Life on the Road
Distinctive memory with The Groves Family:
The FGMA and hanging out with all the other groups. Those boys about drove me crazy on that bus but being around all these group in that sort of environment was just amazing.
What being a member of The Groves Family means to you:
It's an honor to have sung with Deby Trissel. It's a thrill to be on stage next to my father answering the Lord's calling on my life. It means that I'm finally home.
Give a short testimony about salvation:
The lord saved me from my self-destructive ways. When he saved me I quit my vices and started walking with the lord, working for him.
Likes about the Road:
the bus, the good times, dinner on the grounds
Dislikes about the Road:
getting off the road
Something you don't think people know about you:
I've never had vocal training
Who do you admire:
My father and my grandparents
Home
|
About Us
|
Tour Schedule
|
Store
|
Photos
|
Promo Pack
|
Contact Us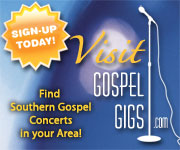 The Groves Family Traditional Southern Gospel and more...
For Booking contact: Wayne Groves
Home Phone: (407)-932-2031
Cell Phone: (407)-436-2210
The Groves Family
P.O. Box 451135
Kissimmee, Fl 34745-1135